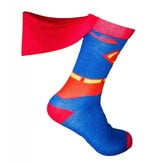 Here is a quick guide to places that will be accepting of your Marvel cartoon, funny or toe socks.
1. Slumber Party - Can you think slumber party and not think of fun toe socks? We carry a large inventory of striped, cartoon and animal print toe socks! Have fun watching your favorite movies with all your friends while having each piggy snuggly warm in their own little toe sock home. Our personal favorites are rainbow striped toe socks and you can be the life of the party by wearing yours proudly!
2. Wedding - Are you a groomsman, the best man or even the one getting married in a big wedding this year? Make sure that you lighten the mood on this special day and remind everyone that this is a fun special occasion with novelty socks. We at The Sox Market believe that Superman socks would work best in this setting. Think about walking down the aisle, pants rolled up, the Superman capes on the back of your socks waving proudly with powerful strides you are making toward your wife to be. You are the man of steel in this moment. Why not let everyone know with a pair of Superman socks? (disclaimer: to avoid an unhappy fiancé, perhaps just wear these for some fun photos before the nuptials?)
3. Costume Party - Enhance your costume by adding a pair of socks that match your costume. Are you Robin this year, Spiderman or a Power Ranger? We have all of these cartoon socks and more! Adding novelty socks will complete any outfit.
4. Work - Do you have a big presentation or interview today? Increase your confidence by wearing your favorite character socks underneath your suit. Sometimes having Batman at your side will get you through the most difficult of interviews! We also have Wonder Woman tights for women that are looking to lasso some big accounts!
5. Home - Don't think that you can show your novelty sock pride out in public or with others? Not a problem! Make it your little secret. We all need to indulge and why can't you in your own pair of panda crew socks that feature a panda climbing up your ankle. Isn't that cute?