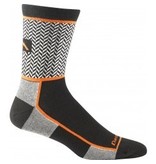 There have been great advances in the way we cover our digits. New technologies in moisture wicking, breathable and thermal socks have helped to keep feet free from blisters, sweat and odors keeping you and everyone in your vicinity happy. Today we will take a look at sport specific socks for running, baseball, skiing and hiking.
Running socks have begun to offer breathable, light, arch supporting socks that along with a snug fit offer synthetic material to wick sweat and prevent blisters from forming. Five finger socks take blister prevention a bit further and provide a space for each digit so not to rub each other into annoyance. These light socks are perfect to keep the feeling you need with your shoe to improve the feeling between you and your running surface.
If light and thin don't offer the support you need there are socks that offer a thick cushion to absorb shock at the heel and ball of your foot. This is all based upon preference and how you would like your shoes to fit. Those just starting to run will want to stick with a thicker cushioning to reduce foot fatigue.
Baseball socks are a distinct style that keeps with tradition, but don't think they haven't upgraded the internals! These specific sports socks have upgraded to include a heel lock that keeps the sock in position and prevents rubbing while sprinting to the next base. As mentioned before, moisture wicking material, CoolMax, has also been included to protect feet from sweat and increases readiness for action. The long-over-the-calf design also helps with circulation to the foot reducing the risk of cramping out on the field.
Ski/snowboard thermal socks are intended to make the pressure points from snow boots feel more comfortable and aim to keep sweat away from the surface of your foot. Merino wool, a moisture wicking break through, is seen throughout a variety of brands and breaths while holding a layer of moisture away from your foot and a ski/snowboard boot. Padding is found on the bottom of the foot along with thicker material on shin area. Since your shine and foot are used for maneuvering, proper socks will keep from rubbing and blistering.
Hiking socks are built for comfort since you will be spending an extended amount of time on your feet. Extra padding can be found on the toes, ball and heel to help absorb shock in these regions. Often you can find a hiker will combine a thick padded sock with a thinner moisture wicking thin sock. This is not for everyone, but has been found to reduce friction when the top thicker sock moves due to the hiking boot flexing by rubbing against the thinner sock, often a running sock, will save your skin from heavy blistering.
Great things are happening for the sock world and sport specific socks to keep feet happy and healthy. Even though we only touched on a few specific sports there are an abundance of brands that we at The Sox Market carries that are making the effort to cover more specialty sports and implement fabrics that keep feet cool to keep feet dry.