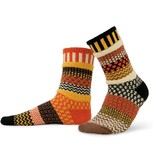 Solmate Mismatched Socks are great for freeing yourself from the worry of matching your socks and for scratching one more thing off your long list of daily concerns. Do you find yourself busy keeping the kids in check? Dad not helping much either? If this hectic family life sounds like yours, then why worry about matching socks? Mismatched socks come in children's, men's, infants' & women's styles! We have the entire family covered.
These recycled cotton socks are made in the USA. So you can have both comfort and the peace of mind that comes with knowing you helped the environment and bought domestically.
Do yourself a favor and make your life and everyone else's a little bit easier. Save time matching after washing or searching for the other sock when pulling them out of the drawer. And, these socks will save you from going cross-eyed figuring out if they are dark blue, dark brown or black! Once they are sufficiently worn through, which will not be for a while, pick up a few more pairs! At a wholesale price of $16.99, it is a great deal! Pick your favorite shade of complementary colors and then couple that with The Sox Market - fast free shipping on orders over $30! You will have these socks at your doorstep in no time!