It's that time of year again. The time when you actually have to think about what you're going to wear because you don't want to freeze. Choosing the wrong piece of clothing can make for a long day, whether you are inside a cold office or outside in the elements. One of the most critical pieces of clothing to make sure you get right is the socks you wear. If you're able to keep your feet warm, and reduce the amount of heat escaping through your feet, you can set yourself up to enjoy any Winter day.
And the best news is that with the variety of socks available, you don't need to be uncomfortable to keep your feet warm. There are any number of socks for different environments that not only keep your feet warm, but also keep them comfortable. Here are some of our top recommendations for best Winter socks.
Men's Winter Socks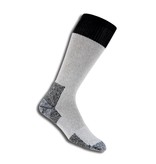 If you need to be outside for a long period of time in boots, a pair of over the calf, cushioned socks that are made specifically for cold weather sound great. These Thorlo Cold Weather Hunting socks fit that bill.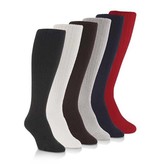 Are you in luck this weekend? Have time to lie on the couch and watch the game? Sounds like the perfect time for a pair of The World's Softest Socks.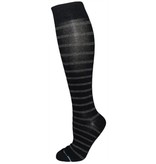 Need to head to the office and work? You'll want something that keeps you during the commute, as well as if the head in the office just doesn't do the trick. And they'll need to look sharp. We recommend trying these striped compression socks.
Women's Winter Socks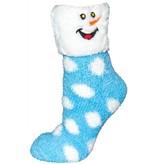 Have a day or a week off from work? Plan on staying inside and relaxing? Maybe a glass of wine by the fireplace. Something fuzzy and cozy on your feet will make it perfect. Try a fun pair of socks like these Smiling Snowman ones.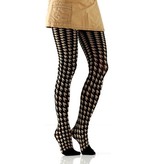 If you think you need to put away your skirts and dresses just because the temperature drops, think again. You can still dress up when you have a warm pair of tights like the houndstooth pattern ones.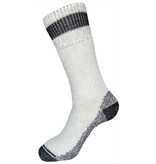 Just because it's cold outside doesn't mean life takes a break. You still need to run errands and go places. Keep warm in a wool blend compression sock.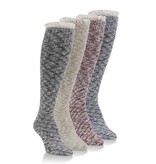 You can keep your style alive and well at work, even if the office is always chillier than you'd like. These comfy, soft socks with unique patterns will pair nicely with many work outfits.
Still aren't sure which pair of socks would be best for you this Winter? Feel free to contact one of our sock experts with any questions. We'll match you up with the right socks for the season. Of course, if you are spending the Winter in south Florida, southern California or even south of the border, you can use the above advice as well. We hear that air conditioned rooms can get very cold some times.
Would you mind doing us a favor? If you recently purchased a pair of any socks, please share a picture of them on social media with #RockYourSox. We'd love to see them.